Bio
Who am I? Am I a filmmaker, a writer, a speaker, or an activist? Well, I consider myself to be all of those things. Mostly, I am a humanitarian who cares about the voiceless and the oppressed. I don't fall into one particular category, so I won't box myself in, or force any labels on myself. I am a communicator and educator by nature, and I use multi-media platforms to reach my audiences. Take a look at my bio to learn more about who I am and my life experiences. Feel free to download either my long or short bio for publications or event introductions.
Download Short Bio
Download Long Bio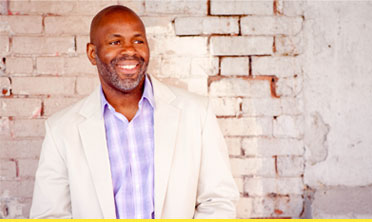 Byron Hurt is an award-winning documentary filmmaker, published writer, anti-sexist activist, and lecturer. He is also the former host of the Emmy-nominated television show, REEL WORKS with BYRON HURT. For more than 20 years, Hurt has been using his craft, his voice, and his writings to broaden and deepen how people think about gender violence, race, music, visual media, and food justice. As an activist, Byron has served as a gender violence prevention educator. The former Northeastern University football quarterback was also a founding member of the Mentors in Violence Prevention (MVP) program, the leading college-based rape and domestic violence prevention initiative for college and professional athletics. Hurt also served as an Associate Director of the first gender violence prevention program in the United States Marine Corps.
Hurt began his professional film career with I AM A MAN: Black Masculinity in America. His second feature length film, Hip-Hop: Beyond Beats and Rhymes (BBR) premiered at the 2006 Sundance Film Festival and was later broadcast nationally on the Emmy award-winning PBS series Independent Lens (drawing more than 1.3 million viewers). Since then, it has screened at over 150 film festivals worldwide, and has endured as a catalyst for discussion about Hip-Hop culture. In 2010, MSNBC's TheGriot.com named Hip-Hop: Beyond Beats and Rhymes one of the Top 10 most important black films of the decade.
In 2008, Hurt released If Five-0 Shoots and Barack & Curtis. Both were critically acclaimed and the latter exploded in the blogosphere as a part of The Masculinity Project, further cementing Hurt as an important documentary filmmaker.
Byron's writings have been published in several anthologies, including Michael Eric Dyson's "Know What I Mean?" Kevin Powell's "The Black Male Handbook," April R. Silver's "Be A Father to Your Child," Richard Lapchick's "Sport in Society," and Shira Tarrant's "Men Speak Out."
Hurt has been featured in various media publications ranging from The New York Times, Wall Street Journal, The Los Angeles Times, The Atlanta Journal-Constitution, The Philadelphia Tribune, and The Final Call. He has also been featured in O, The Oprah Magazine, Mother Jones, Black Enterprise, The Source & Double XL Magazines; as well as allhiphop.com. He has also appeared or been heard on MSNBC, NPR, CNN, Access Hollywood, MTV, BET, ABC News World Tonight, NBC-New York, C- Span, and The Tom Joyner Morning Show, The Michael Baisden Show, among countless other outlets. Comments and reviews of his films can be found all over the Internet and in the blogosphere.
Because of his work, Hurt has been invited to speak and guest lecture at hundreds of campuses. He has presented at numerous professional conferences, and trained tens of thousands of young men and women on some of today's most cutting-edge gender issues.
Byron's latest film, Soul Food Junkies is critically acclaimed and won the CNN Best Documentary award at the American Black Film Festival and Best Documentary at the Urbanworld Film Festival in New York City. The film made its national television premiere on PBS' Emmy award-winning series, Independent Lens in January 2013, drawing an audience of more than 1.5 million viewers. Soul Food Junkies is currently touring the country, and is receiving rave reviews. Learn more at www.bhurt.com.
Hurt is a member of Omega Psi Phi Fraternity, Incorporated.  His next film, HAZING is projected for release in 2015.  Hurt can be found on Facebook, and on Twitter @byronhurt.
About God Bless the Child Productions, LLC
God Bless the Child Productions, Inc. is a documentary production company that creates socially relevant, cutting-edge documentary films about race, class, and gender for diverse national and international audiences.